vCard - Everything You Need to Know
Business cards are an essential element in the business world. They are a quick and easy way to exchange contact information. With the digital progress, digital alternatives to the traditional paper business card have also been developed. One of them is the vCard.
May 2023
2 min reading time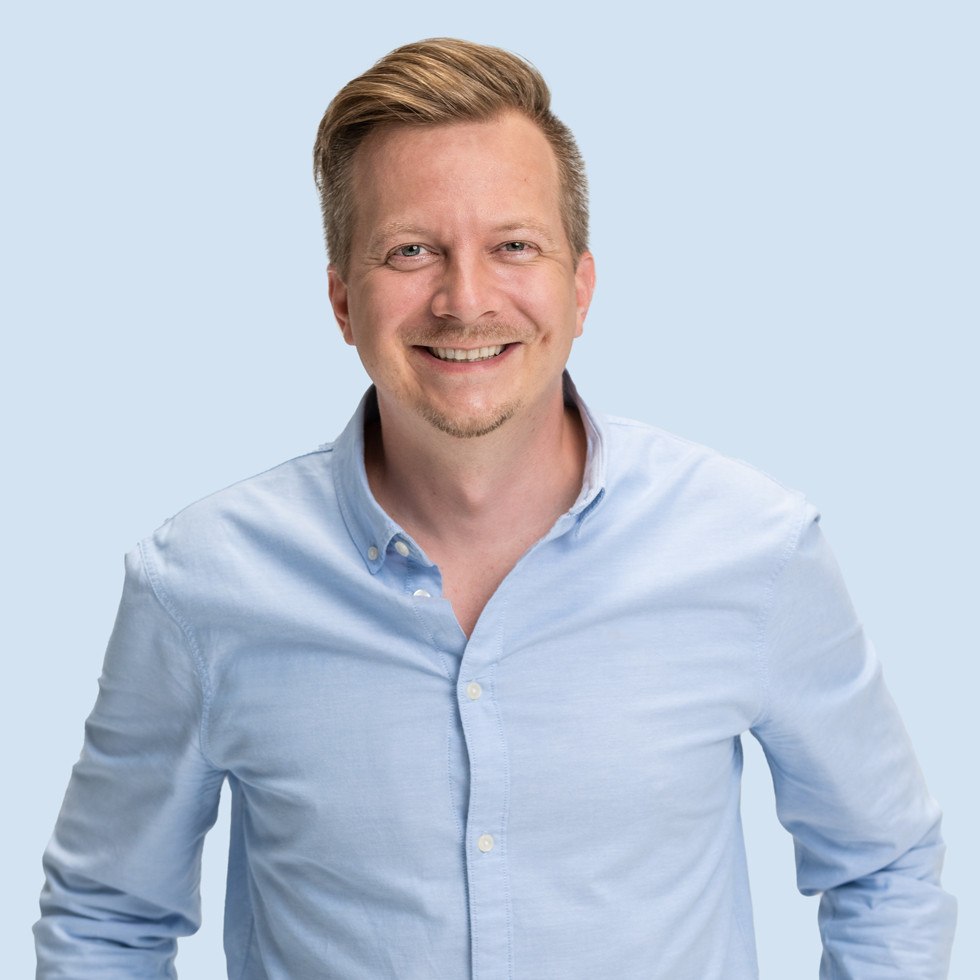 In this article, you will learn everything you need to know about vCards - from the advantages and disadvantages to limitations and comparisons with other digital and traditional business cards.
We will also show you the advantages that modern digital business cards like baningo cards have over the vCard.
What is the vCard?
A vCard is a form of digital business card that contains information such as name, email address, phone number, and address. This information can be stored on a mobile device or computer and exchanged via email or messaging services.
Technical details about the vCard
Technically speaking, a vCard is an electronic format for exchanging business card information. vCards can be transmitted in various formats such as text files, emails, and QR codes. You can find the reference specification for the vCard here: RFC 6360
vCards can also be stored in various file formats such as VCF, CSV, and XML. The idea behind the development of the vCard was to simplify and digitize the exchange of business card information.

The history of the vCard
The vCard was developed by the Internet Engineering Task Force (IETF) in 1995 and has since become a recognized standard for exchanging contact data on the Internet. The IETF was a consortium consisting of Apple, AT&T, IBM, and Siemens.
The vCard standard was last updated in 2011, which led to the release of the vCard 4.0 format, which includes some important improvements over earlier versions. The new version offers support for multilingual names and addresses, as well as for additional contact information such as social media profiles and instant messaging accounts. However, it is important to note that not all applications and devices support this version of the vCard format.
What is a .vcf file?
A .vcf file is an electronic business card that contains contact data in the vCard format. VCF stands for "vCard File" and is a file extension commonly used to store and exchange contact data on mobile devices and computers.
A VCF file can contain various types of information such as name, email address, phone number, address, and even a picture. These files can be easily shared via email or messaging services and stored on mobile devices or computers.
The vCard format is a recognized standard and is supported by most contact management and email clients. For example, if you receive a .vcf file via email, you can simply open it and import the contact data into your address book.
The advantages of vCards over paper business cards:
vCards are more environmentally friendly than traditional business cards as they save paper.
vCards can be easily sent via email or messaging services, which is faster and more convenient.
vCards can be easily stored on a mobile device or computer and accessed at any time.
vCards are interactive and can contain links to websites.
Disadvantages of vCards:
Not everyone has the technology or skills to read or use vCards.
The vCard standard has its limitations and cannot store all the information that may be contained on a business card.
vCards can be considered insecure due to privacy concerns.
The vCard standard has not been updated since 2011.
There is no commercial interest in further developing this technology.
A saved contact as a .vcf file cannot be automatically updated and can become outdated. Many "old" contacts in the phone book are the result.
The better alternative:
Digital business cards from baningo
Our
digital business cards
also offer you the option of saving your contact as a vCard.
In addition, you have many other advantages such as:
Perfect design options - baningo cards can be perfectly designed in your own style and work on all devices that have a browser.
Unlimited options to share your digital business card with others without attaching a separate file
Unlimited amount of information can be added, including links to social media profiles, tools like CRM, etc..
Can be updated and customized without having to share a new file.

Comparison of vCards and Apple Wallet or Android Wallet apps:
Apple Wallet offers a way to store and exchange digital business cards. Unlike vCards, business cards in Apple Wallet can be updated at any time and an unlimited amount of information can be stored in the wallet business card.
Sharing vCards with baningo cards
If you want someone else to save your vCard to their phone book, it's very easy.
Share your digital business card with the person. You can find all the different ways you can share your digital business card with others here: baningo card share
Then the recipient can simply click "Save Contact" and the vCard will be downloaded. A lot of information from your personal baningo card profile will be automatically transferred, including a link to your digital business card, where your current data is always available.
Details on how to save the vCard can be found in the next chapter.
Step-by-step instructions for saving a vCard on an Apple or Android device:
Apple:
Open your counterpart's digital business card and click on "Add to contacts" to download it.
The information will automatically open
Check the contact information and edit it if necessary.
To save the information, tap on "Create a new contact"
And you are done!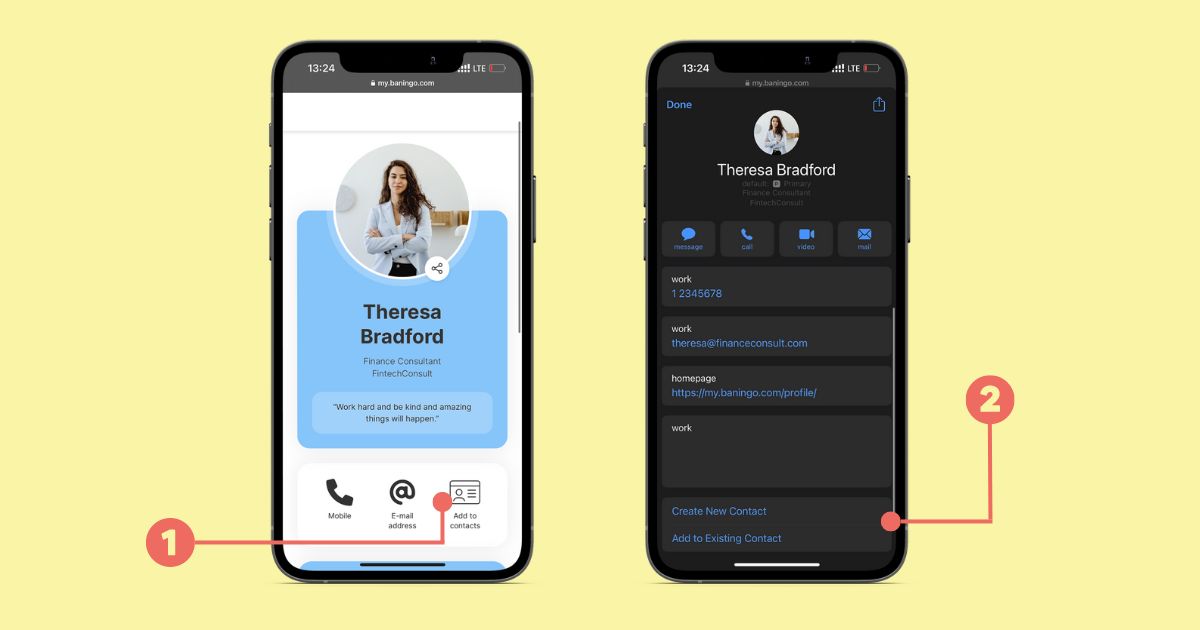 Android:
Open your counterpart's digital business card and click on "Add to contacts" to download it.
Click "Open" once the file is downloaded.
Click "OK" to import the contact information from the vCard.
Check the contact information and edit it if necessary.
Tap on "Save" or the checkmark to save the contact.
Please bear in mind the steps may differ from brand to brand.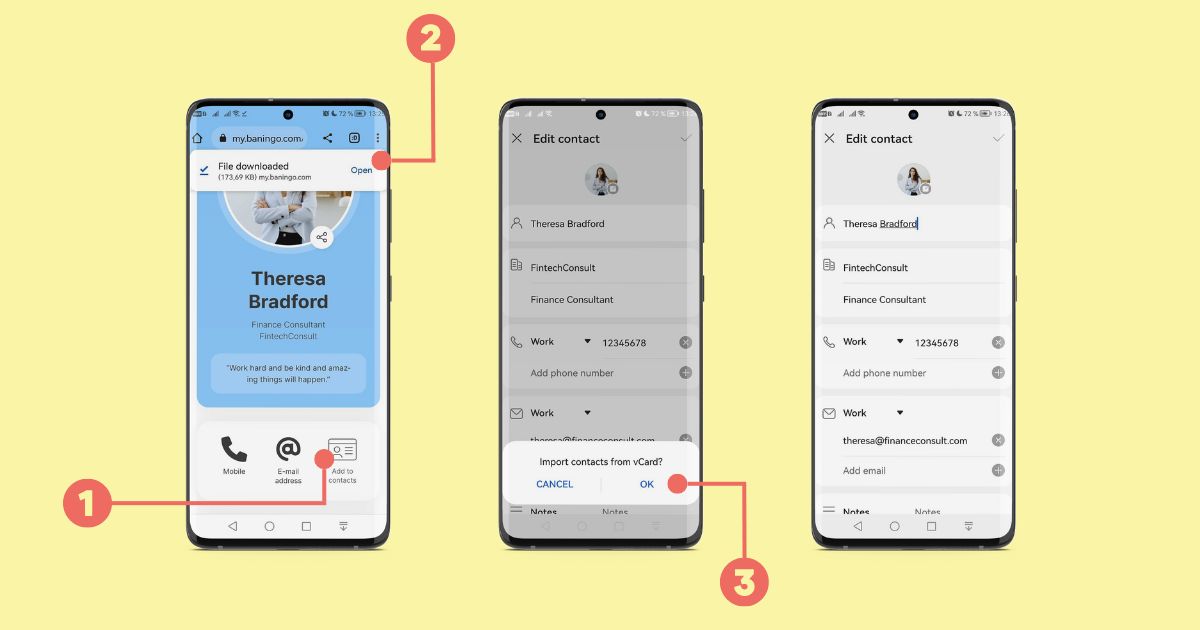 Alternatively, you can save a vCard on your computer and then transfer it to your mobile device via email or cloud service. In this case, you can skip the steps for saving a vCard on your device and go directly to the last steps which include checking and editing the contact information.
Final thoughts
Overall, vCards provide a simple and environmentally friendly way to store and exchange business cards digitally. They have clear advantages over traditional paper business cards but cannot compete with modern digital ones due to several significant disadvantages.
One of the primary drawbacks is the limited options in design and content customization. However, the most notable disadvantage is the inability to automatically update the information stored in vCards.
So if you are looking for a modern digital business card solution that also contains a vCard, check out and test our solution for free: you can sign up here
Create digital business card now for free!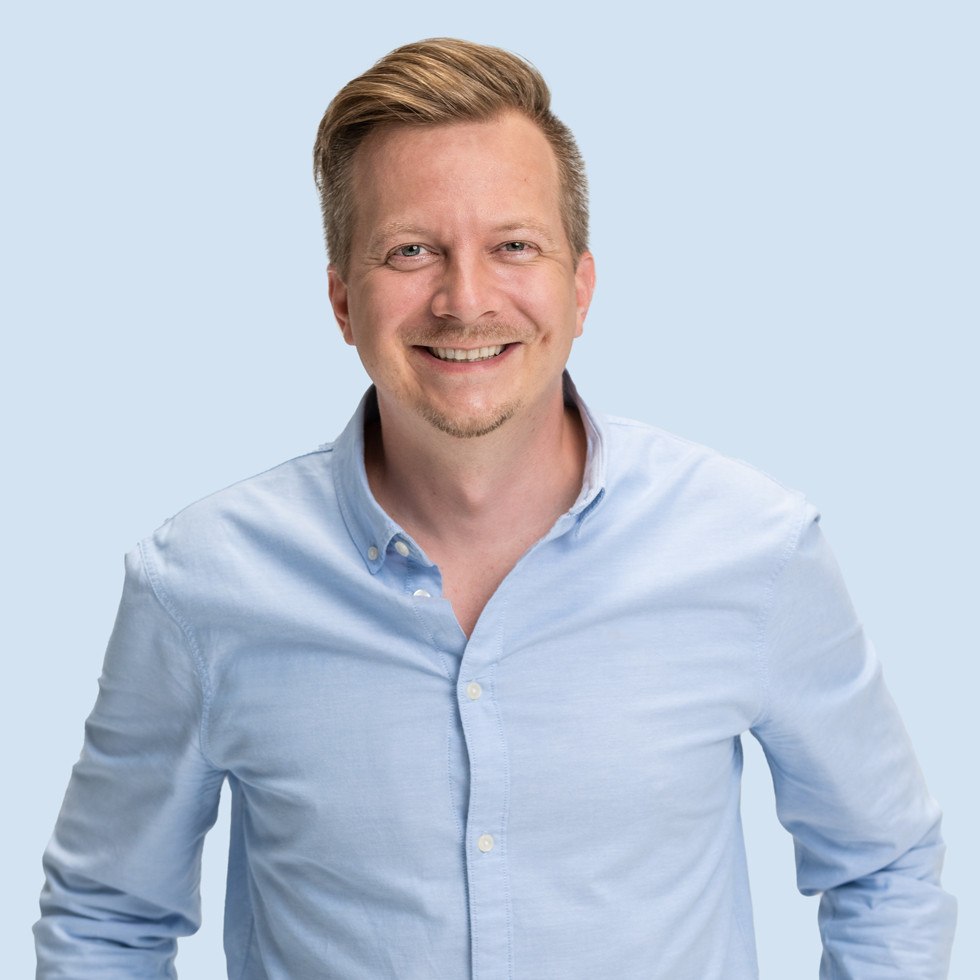 Harald Meinl
Co-Founder & Managing Director
About the author
Harald is Co-Founder and Managing Director at baningo and manages strategy, product & direction.