What is Apple's NameDrop Feature and How Does it Compare to Digital Business Cards?
If you've been hearing chatter about the latest iPhone feature, NameDrop, and are intrigued to learn more, you've come to the right place. In this article, we'll dive into the details of NameDrop, consider its advantages and disadvantages, and see how it compares to digital business card solutions.
September 2023
4 min reading time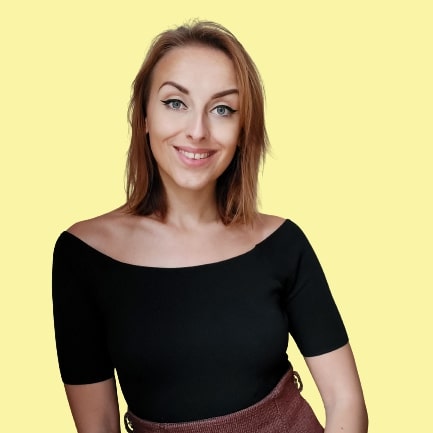 Networking has always held a pivotal role in the world of business, whether the aim has been to connect with like-minded professionals, attract prospective clients, make strategic business partnerships, or recruit new employees.
Even as the digital age blossoms with advancements like AI, human interaction is essential for business success.
Enter digital business cards, the modern tool to embrace human connections in an innovative and easy way with a simple tap. Nowadays, the new devices and tools allow you to connect seamlessly unlike the old days of exchanging business cards or writing your information on scraps of paper.
Another enhancement to making new connections is the newest Apple feature - NameDrop which allows you to share your contact information with any Apple user.
Naturally, this prompts a consideration: How does NameDrop cope in comparison to its digital business card counterparts?
Let's first take a closer look at NameDrop to discover its pros and cons.
Understanding Apple's Namedrop Feature
With the introduction of iOS 17, Apple unveiled a new feature - NameDrop, that simplifies the exchange of contact information between iPhones and/or Apple Watches. This feature streamlines the process by allowing devices to share contact details by simply bringing the devices together.
How Does it Work?
When the devices come into contact, a visually engaging animation reveals a contact photo along with two options: sharing your own contact card or receiving one. Depending on your preference, you can share your data or receive your counterpart's information in VCF format that you can edit and save directly to your phone.
However, an important factor to consider is that NameDrop operates using an NFC chip. In practical terms, this means that the devices need to be in close proximity in order to exchange information.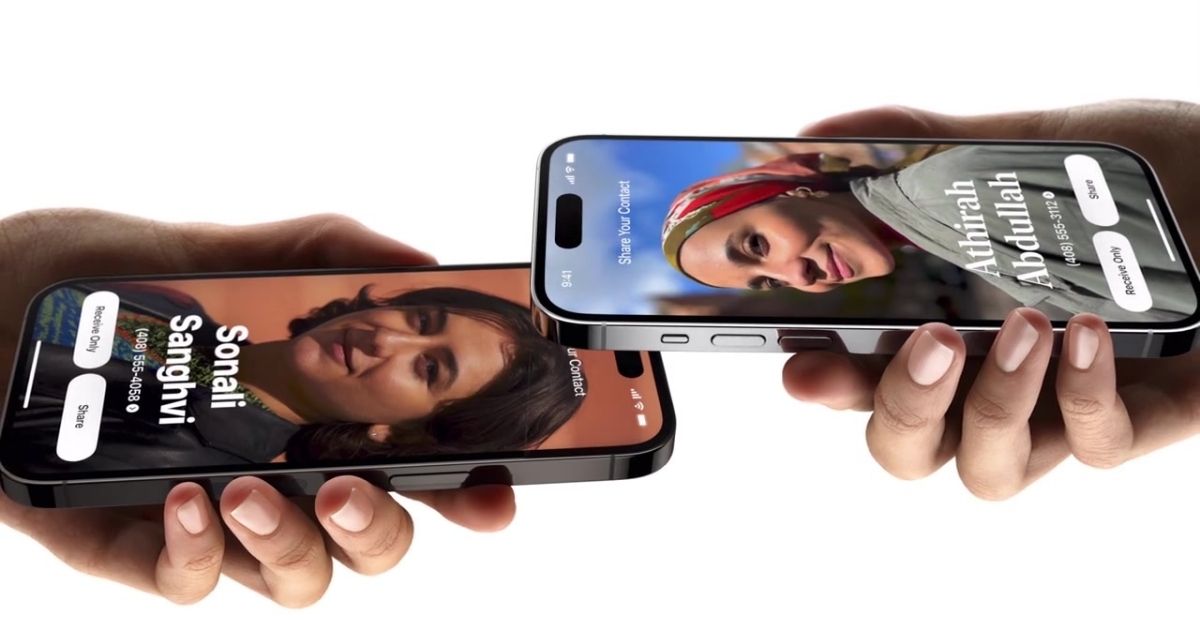 Image credit: Apple
NameDrop vs. Digital Business Card Solutions
NameDrop certainly serves as a convenient option for Apple users. It's user-friendly, saving both money and time by eliminating the need for additional solutions.
The "My Card" element in Contacts allows you to input your contact details and share them effortlessly once AirDrop is enabled. In addition, the seamless integration of data across all your Apple devices is another major advantage, eliminating the need for manual data transfers.
However, the very simplicity that makes NameDrop appealing can also be its limitation. The feature caters to essential contact sharing but it might fall short when it comes to fulfilling the more complex networking needs that small and medium-sized businesses (SMBs) or larger enterprises often require.
In contrast, digital business card solutions like baningo cards offer a competitive edge with a range of features tailored explicitly for business networking. These tools go beyond basic contact details, creating a more interactive and engaging experience.
With NameDrop's pros considered, it's time to dive into the advantages of digital business cards.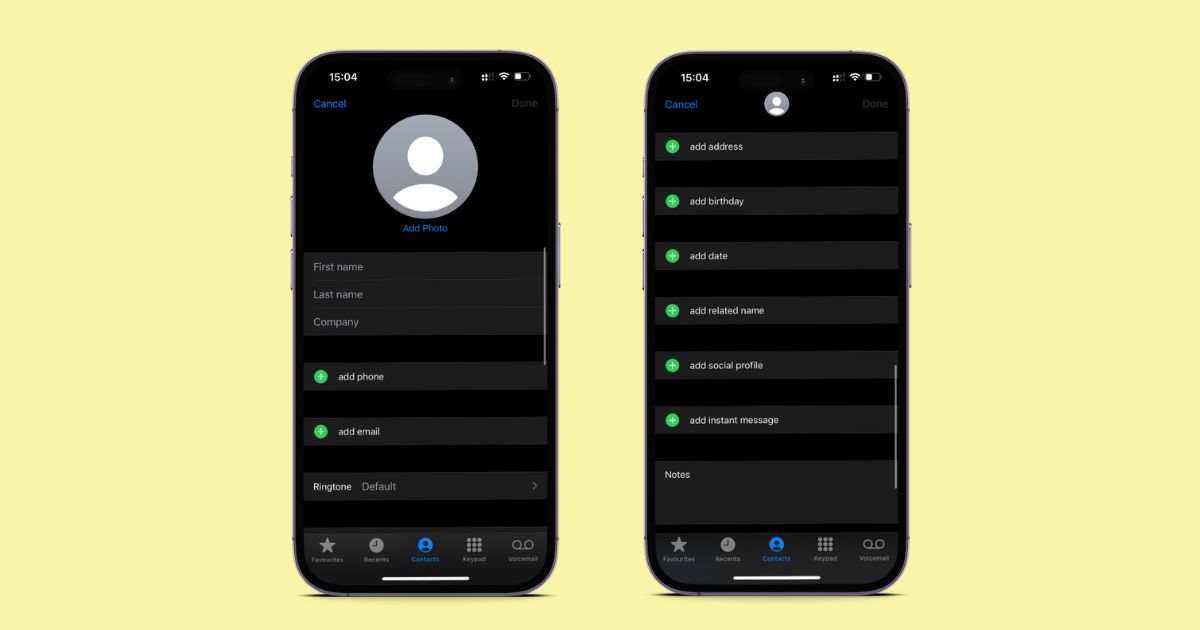 Cross-Platform Compatibility
Digital business cards are not limited to a specific ecosystem like Apple's NameDrop. They can be accessed and shared across different devices, operating systems, and platforms, allowing them to be used by anyone.
In contrast, many digital business card solutions, such as baningo cards, don't require you to download an app since it runs solely on your browser, making it easy for everyone to use.
Analytics and Insights
A significant advantage that digital business cards bring to the table, especially relevant for SMBs and enterprise clients, is the analytics feature.
While NameDrop lacks any form of insight, platforms like Baningo cards allow users to make informed decisions by tracking their cards' performance. As a result, you can improve your networking strategy and share links more effectively.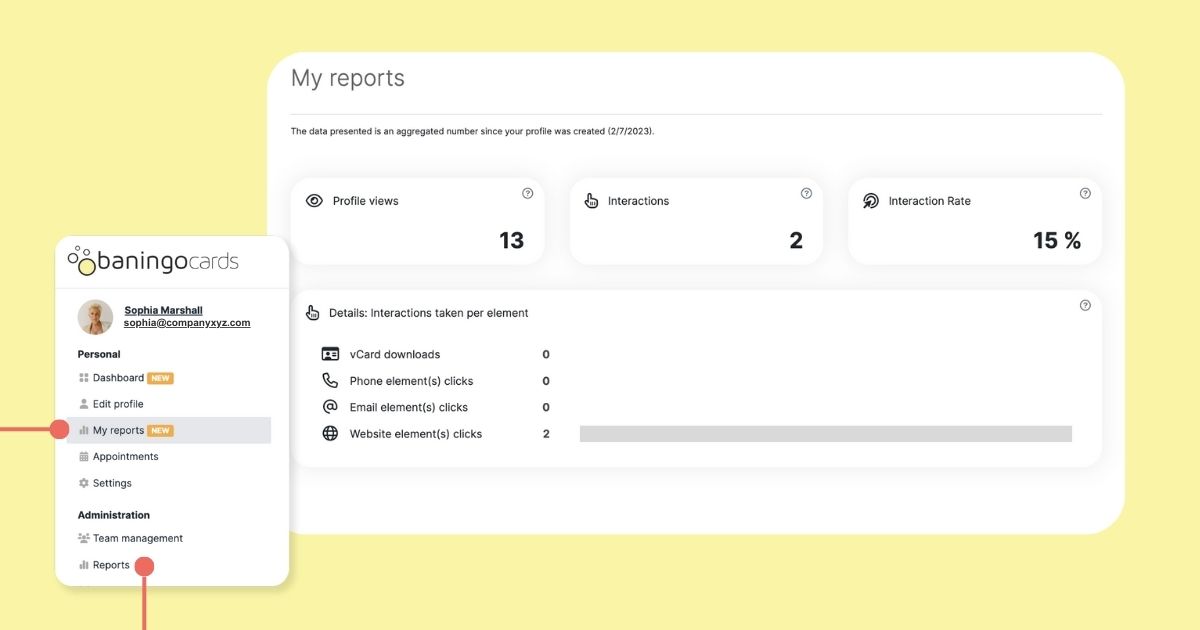 Central Team Management
Another area where digital business cards are particularly advantageous for companies aiming to centrally manage their business cards across their entire organization is the central management feature NameDrop lacks.
While NameDrop caters primarily to individual users, digital business card solutions allow you to invite team members, set permissions, and create standardized company-wide cards. This ensures a consistent brand image.
Advanced Customization
While NameDrop lets you include an image, digital business card tools take customization to the next level.
These tools provide a range of design choices, featuring drag-and-drop capabilities for various sections and elements, a variety of icons for each link, diverse templates, and the option to seamlessly integrate your logo and brand color. This ensures that your brand identity leaves a lasting impact in every networking situation.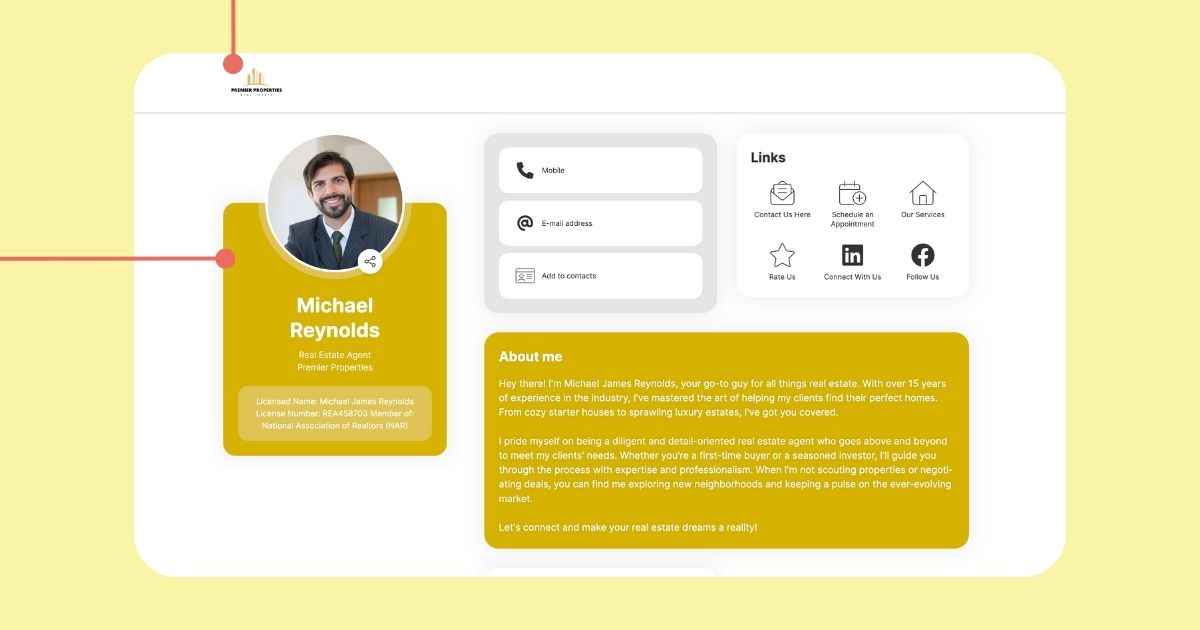 Versatile Sharing Methods
Despite NameDrop being a part of the AirDrop feature, it functions via an NFC chip, as mentioned earlier. This means that the devices must be in close proximity for contact information exchange to occur.
In contrast, digital business cards offer a wider range of ways to share information, whether you're online or offline. For instance, baningo cards provides three primary sharing methods: URL, QR code, or NFC.
This enables you to share your URL across diverse messaging platforms, embed it on your website, display your QR code on meeting backgrounds or printed materials, or utilize NFC cards and stickers to share your card effectively during trade shows or various networking events.
Conclusion
The choice between NameDrop and a more feature-rich business networking solution like baningo cards depends on your professional needs and the tool stack you rely on.
For individual Apple users seeking a streamlined contact-sharing experience without the need for analytics, team management, or diverse sharing options, NameDrop can serve as the perfect alternative to traditional paper business cards. The exchange of contacts is seamless and yet also creative and useful.
However, if you're in need of a more robust solution for multiple team members, that's suitable for teams of all sizes, while also boosting your brand and providing insights into how well your cards perform, digital business card solutions like baningo cards are a better fit. (Decide for yourself by trying out baningo cards for free!)
The limitations of NameDrop prompt considerations of alternative solutions that offer more features to enhance your business connections by using data in smart ways.
Create digital business card now for free!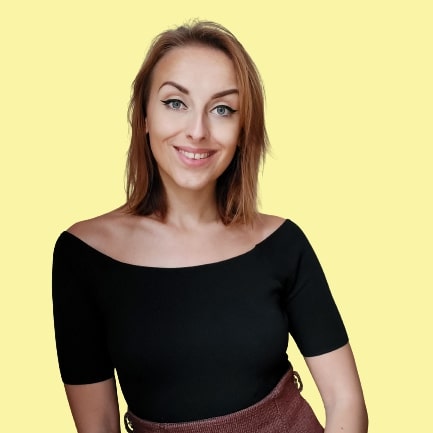 Denisa Lesniaková
Online Marketing & Pre-Sales Manager
About the author
Denisa is an experienced online marketer who has been working in the industry for several years. With a passion for digital marketing, she enjoys staying up-to-date with the latest trends and strategies.