Designing Effective Business Cards for Construction Companies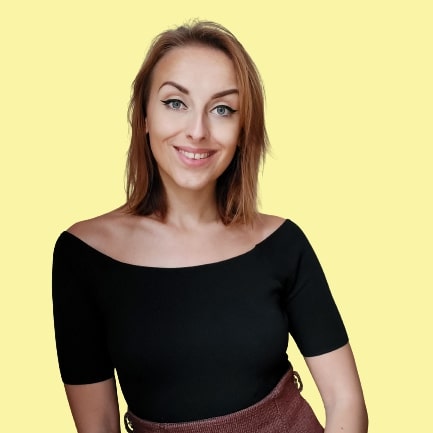 Business cards play a vital role in capturing the attention of potential customers for construction companies. In today's fast-paced construction industry, it is essential for companies to adapt to modern technologies, and business cards are no exception.
Choosing the right construction company is a significant commitment for clients, as it involves substantial investments and long-term partnerships. That's why it becomes paramount for construction companies to effectively showcase their expertise and capabilities.
And modern business cards provide a platform to convey this information in a concise yet impactful manner.
In this article, we will explore the reasons why construction companies should consider switching to modern business cards. We will also provide design options and tips to help you create effective construction business cards.
What are digital business cards for construction companies?
In simple terms, digital business cards are a modern solution to traditional paper ones. With digital business cards, you can share your cards online or offline whenever you like, no matter whether you are present or not.
This convenience makes it easier to connect with homeowners, real estate developers, and other institutions or companies seeking construction services.
Moreover, the versatility of digital business cards allows for the inclusion of various elements and links, enabling you to engage with stakeholders, promote your services, and showcase your company effectively.
Finally, as more companies strive to promote and highlight their sustainable practices, digital business cards align perfectly with this objective, as they produce no waste since they are entirely digital.
If you are keen to delve deeper into digital business cards, be sure to explore this comprehensive article!
Tailoring digital business cards for construction professionals
Now that we understand what digital business cards entail, let's explore how construction companies can customize these cards to suit their specific needs.
1. Services and Specializations
Does your construction company specialize in a particular type of service or construction project? With digital business cards, you have the flexibility to easily share your services and specializations.
Utilize text fields to list your services or incorporate links that lead clients directly to web pages describing the specific services you offer and your areas of expertise. This allows potential clients to gain a comprehensive understanding of the services your construction company provides and the unique value you bring to their projects.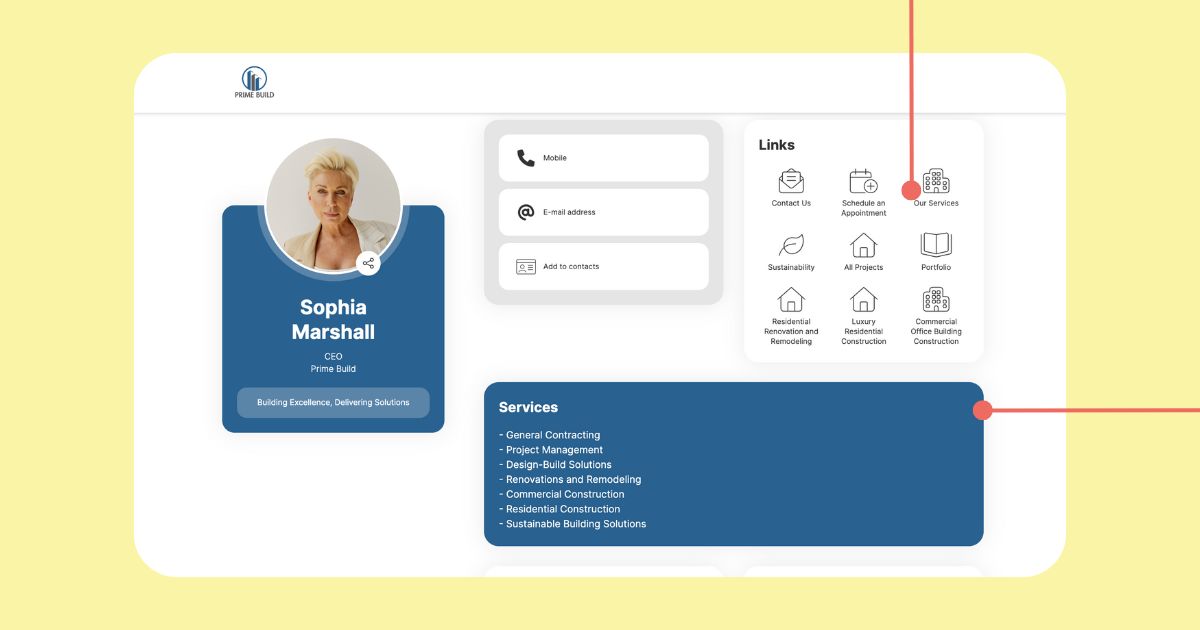 2. Essential Contact Information
With digital business cards, you have the ability to incorporate a variety of contact options in addition to traditional phone numbers and email addresses. Take full advantage of this by including additional contact information on your digital cards.
Consider adding your social media profiles, such as LinkedIn, Twitter, or Instagram, where customers or potential clients can easily reach out to you. You can also incorporate a contact form or appointment scheduler to streamline communication and make it more convenient for clients to connect with you.
Don't forget to include your company address if relevant and necessary for in-person interactions.
Pro tip: With baningo cards for business you have the flexibility to include as many contact elements as you wish. However, be mindful not to overcrowd your card with excessive contact information, as it can make it visually overwhelming and difficult to navigate.
3. Project Portfolio
One of the amazing advantages of digital business cards over traditional paper ones is the ability to showcase information beyond contact details.
By including a curated list of your projects on your digital business card, you allow potential clients to get a glimpse of your capabilities.
You can incorporate links to different project web pages, and project presentations, or utilize text fields to provide detailed information about specific projects you want to highlight. This enables potential clients to explore your offerings and gain a better understanding of your expertise.
Pro tip: With platforms like baningo, you have the flexibility to update your card whenever necessary. Take full advantage of this feature by sharing any number of projects and keeping them up to date.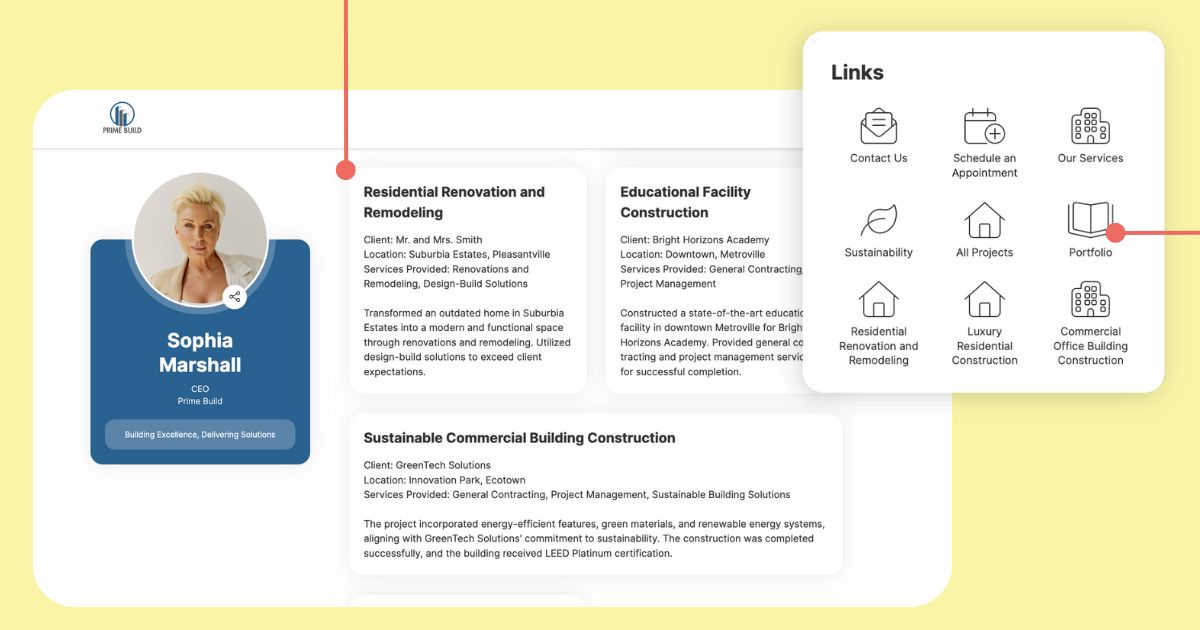 4. Virtual Tours or 3D Models
Enhance your clients' abilities to visualize your finished or planned projects by integrating virtual tours, 3D models, or other interactive elements into your digital business card.
Incorporate links to videos, presentations, or other multimedia formats that offer virtual tours or display 3D models of your projects. This immersive experience allows potential clients to explore your work in a dynamic and engaging way, providing them with a clearer understanding of the design, layout, and functionality of your constructions.
5. Project Timelines and Progress Updates
To emphasize important projects, consider incorporating project timelines or providing regular updates on your digital business card. You can utilize text fields to outline each stage and deadline of the project or provide additional information about the progress of your ongoing projects.
Alternatively, you can link to platforms like Twitter or other social media where you frequently share project progress updates. You may also include links to leaflets or other relevant documents that provide comprehensive project timelines.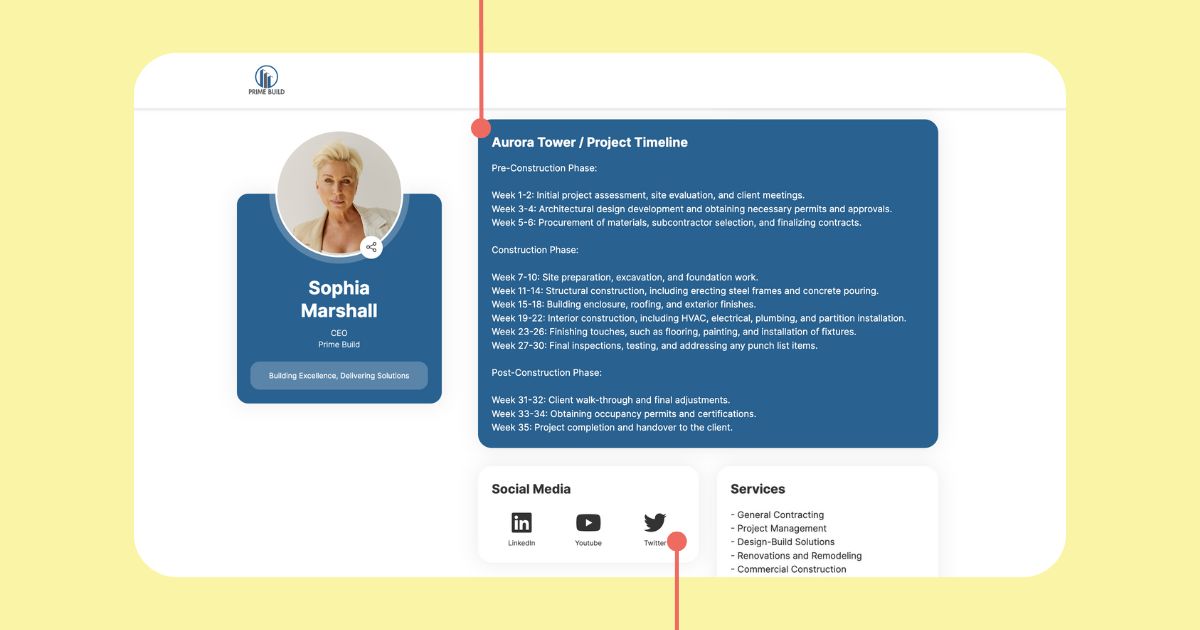 6. Leaflets, Presentations, and Other Material
Take advantage of the digital format of business cards by linking relevant documents that introduce your company, provide information about projects and services, or showcase your past, current, and future work.
Consider incorporating materials such as:
Handbooks and manuals that offer guidance on maintaining and caring for completed projects.
Presentations and slideshows that showcase your capabilities, project progress, or proposals to clients, investors, or stakeholders.
Case studies that delve into specific projects, highlighting the challenges faced and the innovative solutions provided.
By integrating these documents into your digital business card, potential clients can gain deeper insights into your expertise, processes, and the value you offer to their construction projects.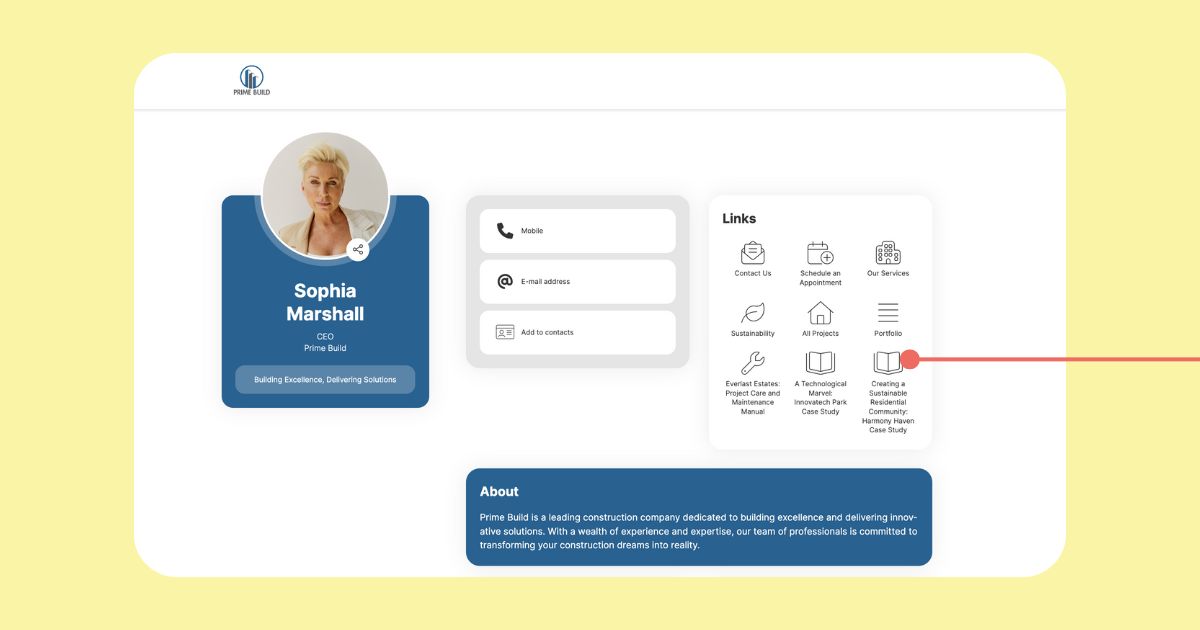 7. Embrace Sustainability
If your construction company prioritizes sustainable practices, make sure to highlight this aspect on your digital business card. Showcase your green building certifications, energy-efficient solutions, and the use of eco-friendly materials in your projects.
This will strongly resonate with environmentally conscious clients who are actively seeking sustainable construction options.
Pro tip: Tools like baningo offer sustainable solutions to further align with your commitment to sustainability.
Choose baningo as your trusted digital business card solution
Now that you've seen the incredible possibilities with digital business cards, it's time to give it a try! With baningo cards, you can sign up for free and create your very own construction business card.
Getting started is easy. Just follow these simple steps:
If you ever need assistance, our dedicated support team is here to help. Feel free to reach out to us anytime.

Conclusion
In the construction industry, a well-designed business card is crucial for attracting potential clients. By utilizing modern technologies and digital business cards, construction companies can effectively showcase their expertise and capabilities.
Digital business cards offer versatility and customization options, allowing construction companies to highlight their services, share project portfolios, incorporate virtual tours, and emphasize sustainability practices.
With baningo, construction companies can effortlessly create and share their digital business cards, unlocking a world of possibilities in connecting with clients and showcasing their offerings in the modern construction landscape.
Create digital business card now for free!
Take your digital customer experience to the next level. Our experts will be happy to support you.
Let's chat.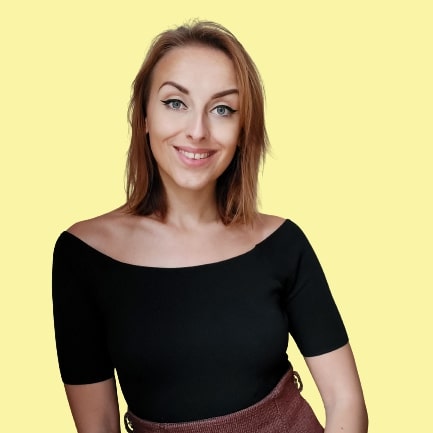 Denisa Lesniaková
Online Marketing & Pre-Sales Manager
About the author
Denisa is an experienced online marketer who has been working in the industry for several years. With a passion for digital marketing, she enjoys staying up-to-date with the latest trends and strategies.