Why you should add your digital business card to the Wallet
In this blog article, you'll learn the benefits of adding your digital business card to Apple Wallet or Android Wallet app.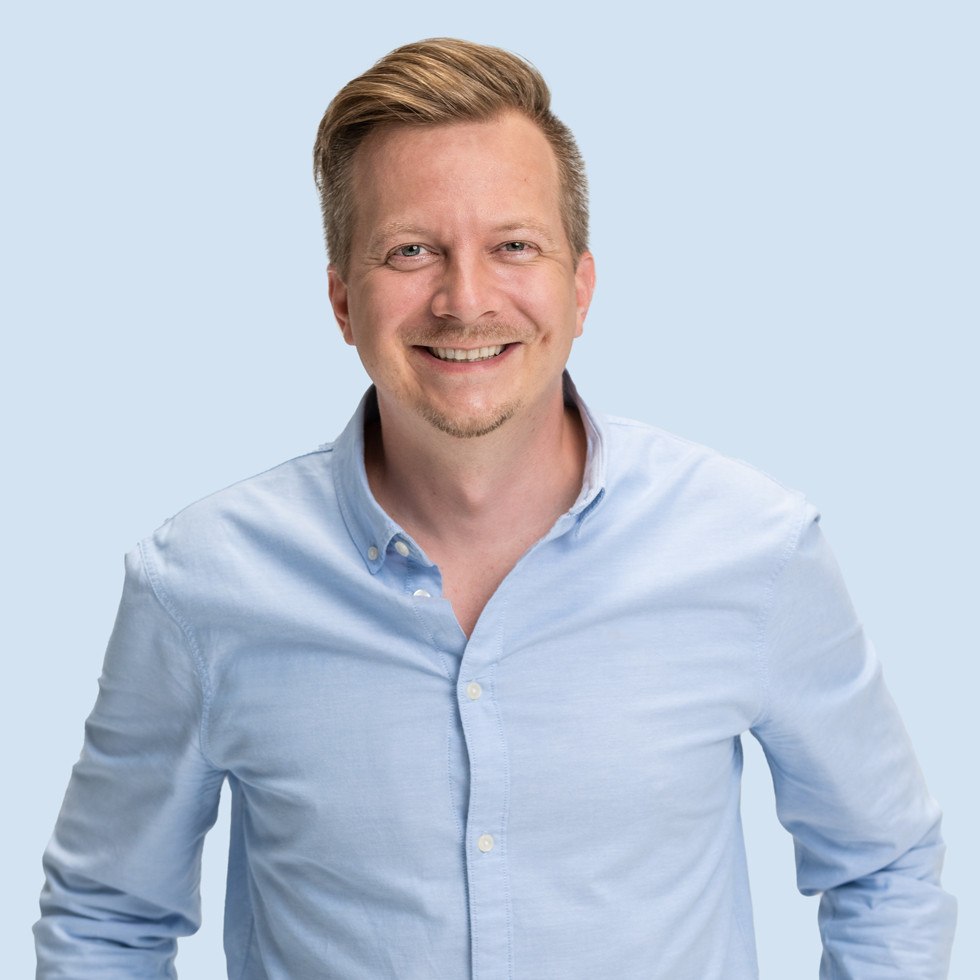 Many of our customers appreciate this functionality very much and especially for iPhone users this function brings many great opportunities.
You can use the Wallet business card feature with your baningo card in any of our packages. No matter if you are in the Free Plan, Business Plan or Enterprise Plan. More information about our prices you can learn here.
How to put your digital business card in the wallet, you will learn here!
Why you should put your own business card your wallet
There are many good reasons to add your digital business card to your wallet. One of the most important is that thanks to the Wallet app, you can have your business card at your fingertips very quickly. Other good reasons are that Wallet Business Cards synchronizes all of your information from your digital card and is therefore always up to date, and you can also use the Wallet card offline without an Internet connection. Thanks to the QR code, you can also share the digital business card with others directly from Wallet.
Why would clients or prospects want to put your business cards in their wallet?
The digital business card in the Apple Wallet or Wallet app on the smartphone is a very convenient way to store all your contact information in one place. Your customers no longer have to dig through your email inbox or look through a stack of business cards to find your Contact Information.
Your customers or prospects can easily get in touch with you by adding your digital business card to Wallet. All they have to do is open the Wallet app on their smartphone and tap your card. The digital business card in Wallet has two sides. On the front is general information about you, and on the back are all the contact options and links you have stored in your baningo cards profile.
With one click, your customer can contact you in the way they want. Moreover, your customers can also connect with you through your social media channels.
What are the advantages of the wallet over the .vcf file in the phone book?
The wallet business card has some great advantages over the .vcf file, which can be stored in the phonebook under the the contacts.
The business card in the wallet has a lot of space for a lot of information
You can add much more information. The wallet card has two sides. On the front side there is your name, your company and the logo of your company. On the back you will find all your contact information, links and your address.
Here you can see how to flip the digital business card in the wallet: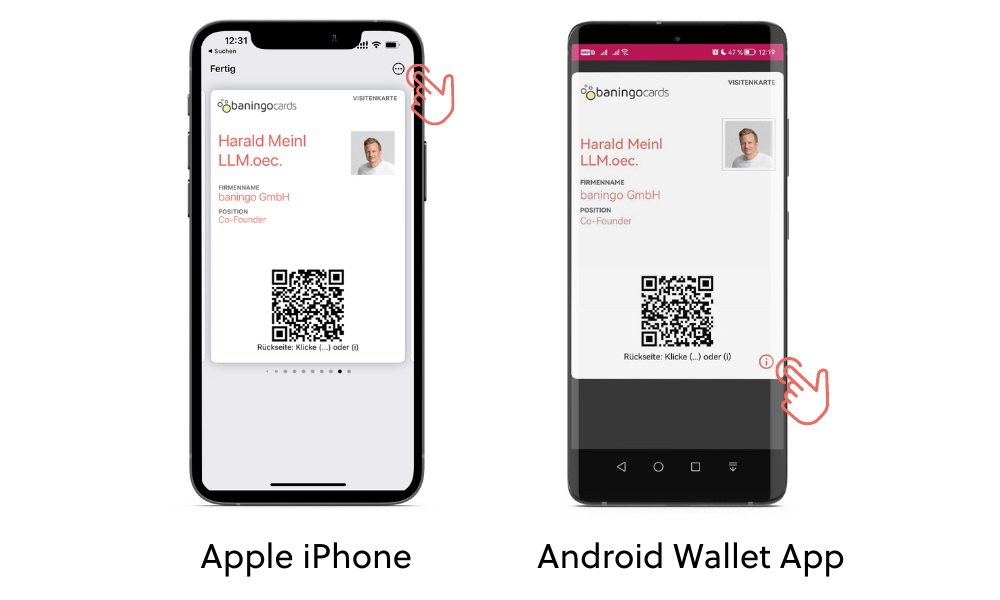 Your data will also be automatically updated for your customers
The digital business card in the wallet is updated by a push when you change, delete or add information in your profile. The only requirement is that your customer allows this. Automatically this option is enabled above. With the .vcf file, this option does not technically exist, since your phone book cannot be updated automatically from "outside".
Summary
As you can see, the wallet function of your baningo cards digital business card offers some great advantages and great possibilities. In the end, however, the use of the wallet is a question of your personal preference and the technical capabilities of your counterpart.
Are you someone who uses an iPhone and do you use Wallet? If so, your digital business card in Wallet is a must-have to complement your digital business card on your homescreen via Safari.
If you have an Android smartphone and have never used a wallet before, you should use your digital business card normally via your browser and put a shortcut on your homescreen. .
Want to learn how to add your digital business card to Wallet, click here: How to add your digital business card to the wallet
Create digital business card now for free!
Take your digital customer experience to the next level. Our experts will be happy to support you.
Let's chat.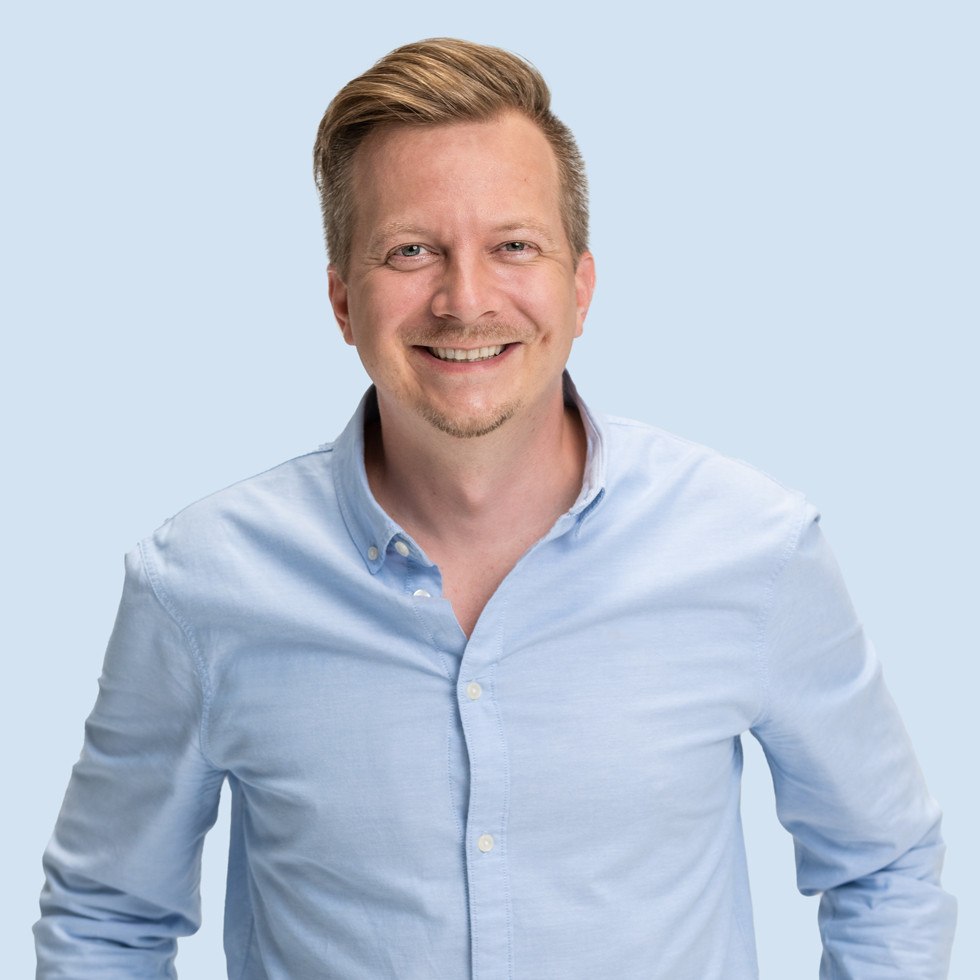 Harald Meinl
Co-Founder & Managing Director
About the author
Harald is Co-Founder and Managing Director at baningo and manages strategy, product & direction.